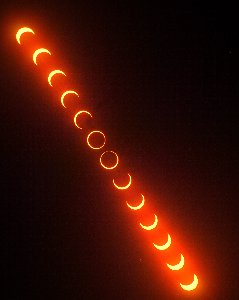 This photos shows the last
annular eclipse in the
United States,
taken by Thunderbird in 2012.

If you plan to watch the
solar eclipse on October 14th
, this is your last week to order eclipse glasses on Atlas Quest! If you're anywhere near the centerline of the eclipse, it'll be pretty awesome. Even if you aren't especially close to the centerline, most of the contiguous United States will still see over 50% of the sun's surface covered by the moon. And
everywhere
within the contiguous United States will experience some sort of partial eclipse., but at no point during the eclipse will it be safe to watch with unprotected eyes.
Be prepared! Order your eclipse glasses today from the AQ Marketplace! Additionally, it's a two for one deal for many of you because there will be a total solar eclipse running through the United States next April and you can reuse the eclipse glasses for that next exclipse as well. It'll be an experience of a lifetime!
As a side note, Amanda and I plan to watch this eclipse from somewhere in New Mexico, so if you're interested in joining us, keep your eyes posted. We haven't really nailed down exactly where we'll watch it from as of yet, but we thought it might be interesting to head down somewhere near Roswell. Maybe look for some extraterrestrials while watching an event from out of this world. =) And it might be that the weather dictates precisely where we end up, but if you're nearby and possibly want to drop in to visit your favorite turtle and Nancy Drew sleuth, be sure to sign up for Extraterrestrial Adventures.
Experience the magic and awe of an annual eclipse!
Photo provided by 2heartsare1 from our 2012 annular eclipse event.